Free Delivery anywhere in SA - for your safety we ONLY use PayFast for ALL payment including EFT and credit cards etc quality since 2014


Welcome to Overalls for Africa online store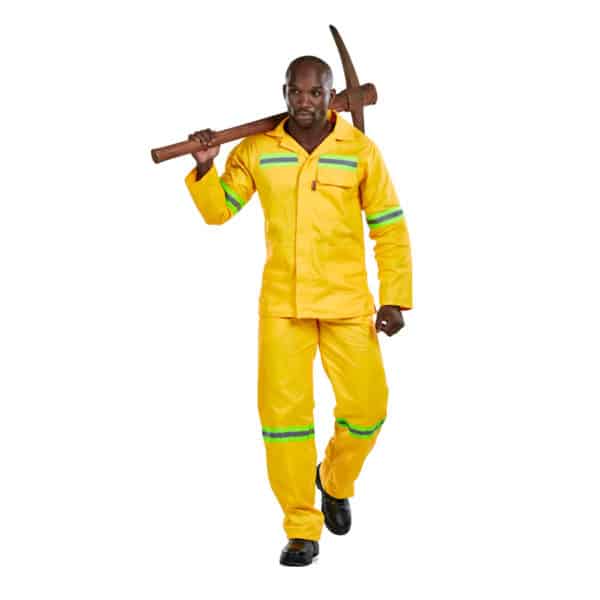 Overalls for Africa is an online shop carrying overalls and protective clothing/equipment essentials all in one space. You can browse through the products from work overalls to first aid kits, eye protection, steel toe cap boots, shoes and gumboots, and hard hats while checking the specifications and purchasing what you need. Tailor your order to suit your requirements. If you need something different from what is offered - such as a longer length overall - please fill it in on the requirements and we will get back to you if we have any issues providing what you require. We can do almost any special request. You can then checkout with PayFast, EFT or credit card and we will get it delivered to you as quickly as possible

Our products are excellent in fulfilling your obligations to your employees with regard to health and safety

When you buy quality it lasts
Buy online now - We accept PayFast , EFT and Credit Card
Why Overalls for Africa?


We have chosen the very best overalls and protective workwear products so that doing business with us is a pleasure. Not only do you get the best possible service but also the absolute best quality products.

With Overalls for Africa, you can rest assured you are buying the highest quality durable safety and protective workwear products. Having no allegiance to any brands we are free to change and make sure we are always carrying the best quality PPE.

In the future, we expect to be able to supply overalls tailored to the female form as well as the new fashion bib style overalls – watch this space for new workwear, personal protective equipment, respirators and a range of budget but still high-quality overalls

In order to offer a one-stop service, we have also taken on some hand-picked items, such as gloves, gumboots and steel toe capped shoes. In this regard, we would love to hear from you as to what other workwear and safety products you would like us to include in the lines we carry. We can now get the required items straight from suppliers to you in 2-3 working days depending on your location (Order to delivery can take up to 10 working days. We will do our best to get it to you ASAP . Allow 48 Hours for payments to clear) . We would like your comments so please use our contact form to let us know what else we can supply you with - whether you are a mechanic, welder, engineer, carpenter, builder, machinist, electrician, painter, gardener, fitter, turner, driver, operator, cleaner a hobbyist or someone who just needs something special we would like to hear from you

Regarding delivery, we will make sure you get your required overalls or PPE and workwear anywhere in the world that it is possible for a courier to reach with the content insured.

Returns - If you've received the products and you find you have the wrong size we will gladly take back the "in original resalable condition" items and replace them with the correct size. You will be responsible for the cost of the return courier but the first replacement shipment back to you will be at our expense. In the unlikely event that you receive an item that is not in 100% perfect condition, we ensure our shipments are insured, so we can claim for replacements. Due to our quality control, it is almost impossible to receive a substandard product - but should this happen we will refund your full purchase price incl courier or replace the item and pay for the courier.

We pride ourselves on client service and satisfaction. Our focus is to form partnerships with our clients and to provide the best PPE solutions possible by providing the best possible quality products and service. No matter how big or small a request we will do our best to satisfy your needs to help build a long mutually beneficial relationship

Being a concierge of sorts in the PPE business and the fact that we do not carry stock and get our products directly from the suppliers, as you need them, keeps our costs down and allows us to be ultra manoeuvrable on your behalf in providing what you require.

Overalls for Africa believe that one cannot put a price on peace of mind, knowing you have the best quality PPE for your personal and staff needs means you can rest at ease knowing you have done what is best in the area of safety and protection of your most valuable assets, people

Offering SABS & CE Approved personal protective clothing, overalls, gloves, eye protection, hearing protection, head protection, foot protection, welding clothing, first aid, and almost anything you request can be added to our line in a matter of hours.

The best client oriented one stop PPE supplier in the business. We are still small enough to care and get you whatever you need and big enough to supply in any quantity you require.

Try us! you will be satisfied – CEO Joshua Ronchese

We are getting the best quality overalls sent anywhere you need them - around the world. Let us know if you have any special requests. All the best!